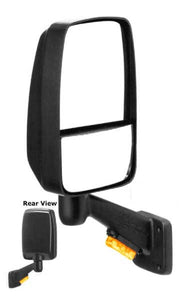 Ramco Engineering, Inc
9000CCT Manual RV Mirrors
Regular price
$ 299.99
Sale price
$ 431.00
The Ramco 9000CCT Class A Mirror features a durable impact resistant black plastic head. These manually adjusted mirrors feature a built-in convex and larger flat glass surface.


Side mount design gives you rear and side viewing.
Larger mirror eliminates blind spots.
Mirror arms feature turn signal indicator.
The head is rotated for left hand or right-hand installation.
Compatible with BOD800.
Housing Dimensions: 13" L x 9-3/4" W.
Flat Glass Dimensions: 7-3/4" L x 8-3/4" W.
Convex Glass Dimensions: 4 1/4" L x 9-1/16" W.
Full Face Glass Dimensions: 12-1/4" L x 9" W.
Mounting Base Dimensions: 4-7/8" W x 4-1/4" H.
Arm Length: 8.71"
Weight: 14 lbs.
Includes: (1) Left-hand mirror, (1) Right-hand mirror, (2) Lead wires for lights per mirror, (1) Hex key with mounting hardware and instructions.
**NOTE*** This mirror is built to order and has a one week lead time to build & ship. This pricing is only available via this website. This arm is not compatible with GMC units. Returns will be subject to a 25% restocking fee.
---
More from this collection