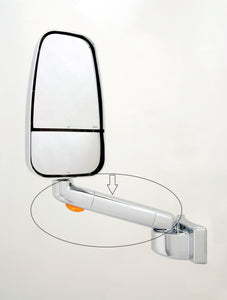 Ramco Engineering, Inc
Factory Second MONAC4010 CRM-E10-T Chrome Class A Arm w/Light (10" between seams)
Regular price
$ 175.00
Sale price
$ 439.59
THIS ARM IS CURRENTLY ON A 1 WEEK LEAD TIME. ANY ORDERS WITH MULTIPLE PARTS INCLUDING THIS ARM WILL SHIP TOGETHER WHEN ALL PARTS ARE AVAILABLE.
This is a replacement chrome arm for Ramco mirrors that are mounted on the front corner with a Class A style mirror.The arm consists of three castings that are hydraulically pressed together and then chrome plated, thus allowing the arm to break at one of the seams if there is incidental impact instead of ripping out from the body of the coach.

Note: this arm is not intended for hang down style mirrors or mirrors with the older bus style mirror.

---
More from this collection